A couple of weeks ago, 60 budding cyclists from across Unlimited took part in our annual tour. It's a group-wide initiative that aims to raise money for charity via a challenging cycle across three consecutive days.
This year, the peloton set off from our office in Winchester, navigated the beautiful countryside of the New Forest en route to Bournemouth on day 1. On day 2 they left the coast behind them, bound for festival land – Glastonbury. The final day went across Somerset, through the infamous and beautiful Cheddar Gorge, before finishing up at our Bristol office.
No tour would be complete without a snazzy jersey – enter the TMWB design team. They were tasked with developing a unique jersey, befitting the big challenge and specific to the route. They conjured up a brilliant design, so we asked them to share a few words on their wonderful creation:
Our initial thought was to create a visual reference to the route of the tour, using an abstract visual of the roads taken. But after bouncing a few ideas round, we started to look into elevation and terrain mapping, which eventually led us to topographic maps of the route.
We felt this was a simple, yet bold and eye-catching design, that would lend itself well to the tour.
We originally focused on block colours with different shades on the sleeves, to create strong contrast with the contour lines. But after a bit of back and forth, and a few discussions with chief cyclist Al, we decided to inject a bit more colour into the designs, using a spectrum of colours from purple to red, orange to yellow, along with UNLIMITED black. Not only was this more vibrant, but it also helped to make every rider more visible on the road.
The final design used a fluid, freeform mesh gradient that clearly conveys the undulations and topology between Winchester and Bristol.
We then added the Unlimited logo to the side of each jersey, so it can clearly be seen when a cyclist leans forward on their bike, along with the sleeve details commemorating this year's tour. Final details include, a word mark, sponsor logos and the route start and end points.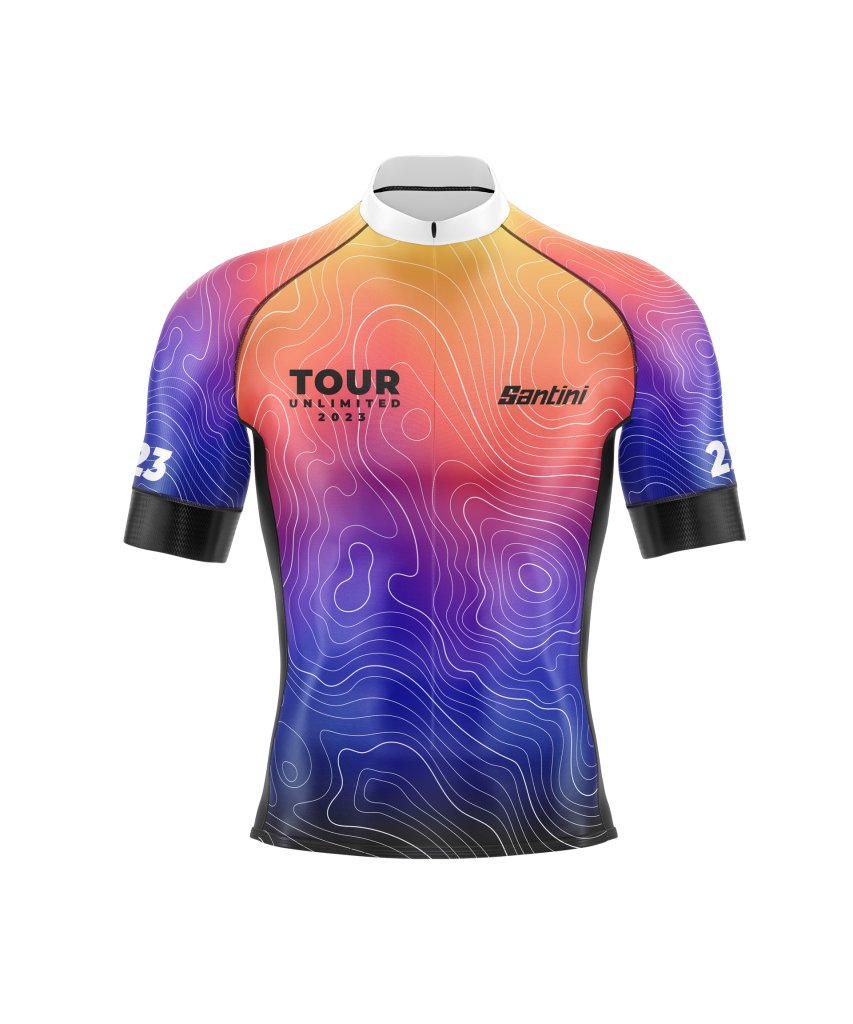 So, there you have it – simplicity with an underlining stroke of genius was just the key! If you'd like to see the jerseys in action, you can watch this video by TMWB's very own Stephen Hastings.
Sadly, the jerseys are unavailable for purchase, but you can make a donation to Access Sport, who help transform the lives of millions of children across the UK, providing them access to sport, and helping them to be part of a community. Any donations will be greatly received.
Thank you for reading and helping us support this vital cause.